KCRW Exceeds $48 Million Fundraising Goal in its
Largest Capital Campaign,
Public Support Brings Total Amount Raised to
$50.4 Million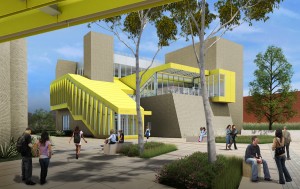 Funding supports the KCRW Media Center
and new programming, technology investments
Santa Monica, CA (June 12, 2017) – KCRW is pleased to announce the successful completion of its $48 million Capital Campaign, launched in 2013 to build brand new, state-of-the-art broadcast studios and invest in programming and technology. KCRW is a non-profit, multi-platform public media organization which features an eclectic mix of music, NPR news, and cultural programming in Southern California and around the world.
Thanks to the generosity of over 5,800 individual donors and institutional supporters, KCRW marks the end of its largest-ever Capital Campaign by exceeding the $48 million goal and raising $50.4 million. The Campaign includes a $28 million contribution from Santa Monica College, licensee of KCRW, with funding from Bond Measure AA, approved by Santa Monica and Malibu voters in 2008.
Construction of the new 35,000-square-foot KCRW Media Center, located on Santa Monica College's Center for Media and Design, will be completed in the coming months.
More than 5,800 donors joined Santa Monica College and KCRW's Board of Directors in contributing to the Capital Campaign through a variety of fundraising initiatives, including two "Above and Beyond" Pledge Drives in 2015 and 2016.  Supporters were invited to place their names on microphones in KCRW's studios and on bricks lining the courtyard of the new campus.
"Starting as a small campus-based radio station that incubated over thirty years ago in the basement of Santa Monica College's cafeteria, KCRW steps boldly into the light 'above ground' to move into its new home at the SMC Center for Media and Design," said Dr. Kathryn E. Jeffery, Santa Monica College Superintendent and President.  "We look forward to KCRW being an active part of creating a vibrant learning environment with hands-on experience for students passionate about journalism, new media, and radio in this new state-of-the-art facility."
"This support marks our transformation from a radio station housed in a basement into a true community institution. It means so much to have the investment of Santa Monica College, the many foundations, thousands of individuals, the generosity of KCRW Foundation Board Members and public and private entities that supported this campaign," KCRW President Jennifer Ferro said.
The Campaign, co-chaired by KCRW Board Chair Michael Fleming and KCRW Board Member Deborah Ramo, provided the funds to purchase broadcast and digital equipment for the KCRW Media Center, and to acquire new stations in Santa Barbara (88.7 FM) and San Luis Obispo (101.3 FM).  Donated support also includes more than $11 million to invest in new programming and technology to distribute KCRW's content throughout Los Angeles and around the world.
Major private sector gifts received for the Capital Campaign included $5 million from the Annenberg Foundation and $1 million from both the David Bohnett Foundation and the Conrad N. Hilton Foundation.
"LA has always been a radio town, a community of deeply engaged listeners who expect the very best news and culture throughout their day," said Wallis Annenberg, Chairman of the Board, President and CEO of the Annenberg Foundation, KCRW's largest private donor. "Even here, KCRW stands out as a rare and shining gem—with smart, cutting-edge programming that informs, inspires, and brings us closer together.  That's why I'm so pleased that we could do our part to move KCRW out of the basement, and into the kind of world-class facilities it deserves."
Major donors to the Capital Campaign include The Ahmanson Foundation, the Annenberg Foundation, Borzi Family Foundation, Norris and Debra Bishton Foundation, David Bohnett Foundation, The Rosalinde and Arthur Gilbert Foundation, Conrad N. Hilton Foundation, Chris A. Hollinger and Elizabeth MacDonald, W.M. Keck Foundation, Kayne Foundation, Ric & Suzanne Kayne and Jenni, Maggie & Saree, The Ralph M. Parsons Foundation, Rosemary Kraemer Raitt Foundation, Roth Family Foundation, Santa Barbara Foundation, Monica J. Shilling, Ellie and Tom Wertheimer, Lucy Wild and Jason Wolff, and Kristin and Jeff Worthe.
To raise support for the Capital Campaign, KCRW also published "From The Basement," a limited edition book of photography that memorializes the many artists featured on the station's flagship music show "Morning Becomes Eclectic," which celebrates its 40th anniversary this year.
Over the past 35 years, KCRW's staff has grown from 14 to 125 people working in five locations, including extremely cramped offices and studios in the Santa Monica College cafeteria basement. The new KCRW Media Center is designed to preserve the station's collaborative culture, while creating community gathering spaces, integrating state-of-the-art production facilities, and allowing for future growth. Designed by Clive Wilkinson Architects, a global leader in workplace innovation, the new building will also meet LEED Silver Certification standards, maximizing energy and water efficiency, and indoor environmental quality.
With a history of bringing unique live experiences to Southern California and around the country, KCRW will, for the first time in its history, be able to host the community at its own 1,400 square-foot Annenberg Performance Studio. KCRW will also have the opportunity to program events for up to 1,500 people in the 18,000-square-foot courtyard and outdoor stage and a 180-seat auditorium.
SMC's Center for Media and Design is located in the middle of Santa Monica's creative business district, and two-blocks from the Expo Line. The campus will include a newly-remodeled 50,000 square-foot teaching facility, a new 30,000 square-foot addition with TV and production studios, a cafe, and a new 430-space parking garage. Construction is projected for completion by end of 2017, with both the KCRW Media Center and SMC Center for Media and Design operating from the new buildings by late 2017.
To learn more about KCRW's Capital Campaign, visit KCRW.com/Campaign.
ABOUT KCRW
KCRW creates and curates a unique mix of content centered around music discovery, NPR news, cultural exploration and informed public affairs. KCRW is driven by the spirit of Los Angeles and delivers in innovative ways – on the radio, digitally and in person – to diverse, curious communities around the corner and around the world.  A community service of Santa Monica College, KCRW can be found on the air in Los Angeles, Santa Barbara, Ventura, Mojave, Palm Springs, and via KCRW-developed smartphone apps and online at KCRW.com.

Twitter | twitter.com/kcrw
Facebook | facebook.com/kcrwradio
Instagram | instagram.com/kcrw
Google+ | plus.google.com/+kcrw