KCRW CELEBRATES 20 YEARS OF WARREN OLNEY'S "WHICH WAY, L.A.?"

Signature Radio Show Has Its Roots in the 1992 Los Angeles Riots
SANTA MONICA, CA, April 25, 2012 – Next week, KCRW (89.9FM and KCRW.com) celebrates 20 years of the critically acclaimed radio program, Which Way, L.A.?, which was birthed in the midst of the 1992 Los Angeles Riots. Hosted by award-winning moderator Warren Olney, the show has received nearly 40 national, regional and local awards for broadcast excellence and continues be a staple when discussing Los Angeles public affairs.
The signature KCRW public affairs program started as a way to discuss the troubling social issues exposed by the riots. Initially beginning as a series of round-table discussions, the show elicited such passionate responses from Los Angeles residents it became a regular broadcast. Now, 20 years later, Which Way, L.A.? continues to provide a much needed outlet for Angelinos to voice their concerns and examine important issues.
"Which Way L.A.? was created just a month after the riots out of the need to speak to an audience that was traumatized and frightened," said Ruth Seymour, former KCRW general manager and creator of the show. "It began as a way to report the latest developments and to allow listeners to hear from both their neighbors and others in diverse communities in the city."
"It was a safe and even comforting place to turn to as people searched for ways to go forward," Seymour continued. "Led from the beginning by Warren Olney, the program remains a trusted source for discussion and debate about the problems and concerns of Southern Californians. The program has now served a generation of KCRW listeners. That surely is more than a success; it's a triumph."
Warren Olney began his career in public radio with Which Way, LA?, making this month his 20th anniversary with KCRW.

"As we mark the 20th anniversary of the Los Angeles riots this month, we want to thank Warren Olney for being there to help the city talk through the crisis; to ask how a scarred city could rebuild," said KCRW General Manager Jennifer Ferro. "Two decades later, Warren continues to report the stories that matter. He is a voice of curiosity, concern and integrity at a time when we are still asking, 'Which Way, L.A.?'."
Warren most recently received the 2012 Lifetime Achievement Award from the Radio & Television News Assn. of Southern California. He and his team have won a multitude of prestigious recognitions for their work, including a Golden Mike Award for "Best Public Affairs Program".
In commemoration of the 20th anniversary of the L.A. Riots, this week KCRW and Which Way, L.A.? are airing hour-long specials that look at the conditions that led to the riots and ask what has changed in the 20 years since. The shows will focus on the Los Angeles Police Department, the city's shifting demographics, efforts to rebuild, and the way the civil unrest affected pop culture – all the while keeping in mind the essential question: "Could it happen again?"

Each hour-long program will be archived in full and available online and podcast. Additional information about our coverage, extended interviews, online extras, and listener and community testimonials cultivated through the Public Insight Network, are available on the Which Way, L.A.? blog at www.kcrw.com/lariots
CONTACT: KCRW
Alyssa King
(310) 314-4627
alyssa.king@kcrw.org
MEDIA ASSETS:
Hi-resolution of Warren Olney: http://blogs.kcrw.com/pressroom/wp-content/uploads/2012/04/WARREN-OLNEY-NEWPUBHIREZ-02.jpg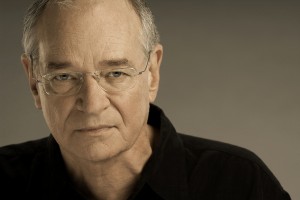 Promotional Graphic:

Warren Olney Profile – Behind the Scenes at KCRW. A mini-doc produced by Colin Hanks.