KCRW makes it's content available in the following formats, terrestrial and digital:
KCRW Radio App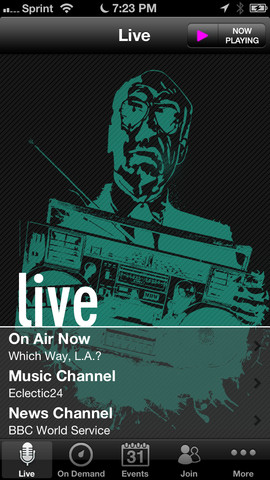 Listen Live – The KCRW Radio app streams all three KCRW channels – On Air, Music and News. Music shows include real-time track lists for each show with the ability to purchase from iTunes.
Listen On Demand – The KCRW Radio app also offers KCRW's Music, News and Talk programs for on-demand listening. On Demand content is updated with new shows daily and weekly, depending on the schedule for each program.
iPhone: Download | Support
Android: Download
BlackBerry: Download
KCRW Music App for iPhone, iPad and Spotify
From quick discovery to deep exploration, the app takes listeners on an audio adventure of artists handpicked by tastemakers at the LA public radio station. The app was developed by Public Radio Exchange (PRX), designed by Roundarch using The Echo Nest's powerful music intelligence platform.
Terrestrial Coverage Area:
Broadcast Frequencies:
89.9 FM KCRW: LA, Orange Counties
89.1 FM KCRU: Ventura County
89.3 FM KCRI: Greater Palm Springs area
88.1 FM KCRY: Kern, Northern LA Counties
106.9 FM: Santa Barbara
90.7 FM: Twentynine Palms, Yucca Valley
89.7 FM: Gorman
90.9 FM: Banning
92.9 FM: Borrego Springs
100.1 FM: Ridgecrest
102.3 FM: Santa Paula, Moorpark, Fillmore
102.1 FM: Ojai
89.9 FM: Lemon Grove, Spring Valley