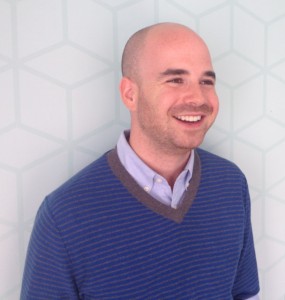 Greenberg Brings Over 13 Years of Media Experience, Including National Public Media, NPR and Atlantic Media
LOS ANGELES, CA (May 20, 2014) — KCRW announced today it has hired Micah Greenberg to serve as Director of Business Development, where he will oversee the strategy and implementation of expanding KCRW's audience and revenue streams across partnerships, underwriting, membership, and event sponsorship.  In addition, Greenberg will work with KCRW President Jennifer Ferro—as well as the programming, marketing, and underwriting teams—to explore new areas of growth, as the station continues to increase its revenue, reach and impact.
"It is our great pleasure to welcome Micah Greenberg to the senior leadership team.  His extensive experience in public media will be invaluable as we continue to diversify KCRW's offerings and grow our audience in this rapidly changing media landscape," said Jennifer Ferro, KCRW General Manager and KCRW Foundation President.
Greenberg served as Director of Marketing for National Public Media, the sponsorship sales team for NPR and PBS.  Prior to this role, Greenberg headed up marketing for NPR Sponsorship, the network's then in-house team, before National Public Media was created in 2007.  In his eight-year tenure with National Public Media and NPR, Greenberg developed his role and department from scratch, and oversaw sales strategy, brand management and business development.  Greenberg also served as Associate Director of Marketing for Atlantic Media, the parent company of The Atlantic, National Journal, and Government Executive.  Greenberg holds a Bachelors degree in media studies from Brown University.
ABOUT KCRW
KCRW creates and curates a unique mix of content centered around music discovery, NPR news, cultural exploration and informed public affairs. KCRW is driven by the spirit of Los Angeles and delivers in innovative ways — on the radio, digitally and in person — to diverse, curious communities around the corner and around the world.  A community service of Santa Monica College, KCRW can be found on the air in Los Angeles, Santa Barbara, Ventura, Mojave, Palm Springs, and via five KCRW-developed smartphone apps and online at KCRW.com.
To learn more, visit kcrw.com/about.