KCRW Returns to Pasadena for TWO Free Concerts
Bahamas + Delta Rae
June 9 and June 23
7:30pm 
SANTA MONICA, CA, May 10, 2012 Tastemaking public radio station KCRW (89.9FM and KCRW.com) is bringing two of our favorite new bands — Bahamas and Delta Rae — to the One Colorado Courtyard in Old Pasadena to kick off a season of summer concerts. The shows, on Saturday, June 9 and Saturday, June 23, are free and open to the public.
Bahamas is the musical pseudonym of Toronto-based songwriter Afie Jurvanen, who first gained attention as Feist's touring guitarist. His songs are a laid-back excursion into tropical pop that have earned him both a devoted fan base and a significant amount of critical acclaim. Simple, sublime, and sweetly melancholic, his music will make for a perfect Saturday evening in this outdoor setting on June 9.
From the deep woods of North Carolina, 6-piece buzz band Delta Rae will deliver a powerhouse set of music. Founded by three siblings, the band's fusion of gospel, country, folk and rock is built around mesmerizing four-part harmonies that made them an instant KCRW favorite.  We'll hear songs from their forthcoming album "Carry the Fire", on June 23, just days after the album's release.
Both shows begin at 7:30pm in the One Colorado Courtyard, amidst 17 historic buildings with numerous bars and restaurants nearby. One Colorado spans one city block in Old Pasadena, between Colorado Boulevard, Union, Delacey and Fair Oaks.
Stay tuned for more info.
About KCRW: KCRW 89.9FM is an NPR affiliate serving Southern California and licensed to Santa Monica College. The public radio station represents cutting edge radio at its best, presenting an eclectic mix of independent music, news, talk and arts programming. The terrestrial signal serves Los Angeles, Orange, and Ventura counties, as well as parts of San Diego, San Bernardino, Kern, and Santa Barbara counties and the greater Palm Springs area. KCRW' s programming is internationally renowned and available worldwide at KCRW.com.  KCRW offers an all-music channel, Eclectic24, an all news channel and on-air simulcast. . Podcasts and archives of our locally-produced programs and live band performances are available on our website, as well as on our smartphone apps for the iPhone, Android and Blackberry. KCRW's acclaimed Music Mine app for iPad is dedicated to music discovery.
###
CONTACT:
Rachel Reynolds – KCRW
(310) 314-4625
rachel.reynolds@kcrw.org
MEDIA ASSETS:
Bahamas and Delta Rae


Bahamas by Dave Gillespie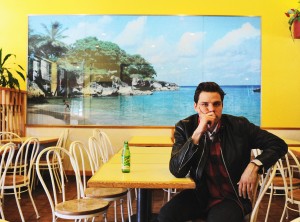 Delta Rae