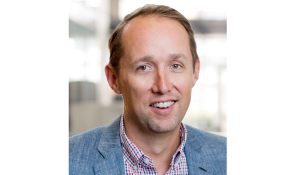 Matt Kline is Named Chairman of the Board for the
KCRW Foundation
New KCRW Board Officers include
Lee Rierson as Vice Chair and
Emily Gold Mears as Secretary/Treasurer
(Santa Monica, CA—June 6, 2017) Attorney, university lecturer, and public servant Matt Kline will take the helm as Chairman of the Board of the KCRW Foundation effective June 5, 2017. The announcement was made following the organization's Board meeting by current Chairman Michael Fleming, who will remain on the Board for another three-year term. New KCRW Board Officers include Lee Rierson as Vice Chair and Emily Gold Mears as Secretary/Treasurer. Monday's meeting also marked the election of two new Board members: Cisco Pinedo, founder of Cisco Home, an L.A.-based home furnishings manufacturing company; and Heather Mingst, philanthropist and community volunteer.
"I am delighted that Matt Kline will lead KCRW into its next chapter," said Fleming. "KCRW is much more than just a radio station – we are a true community hub for news, music, arts, and culture. The diversity you hear on the air is a reflection of the very conscious 'behind the scenes' efforts to make sure that we truly represent our community. On behalf of our Board, KCRW President Jennifer Ferro, and the entire staff, we welcome Matt and look forward to building on the momentum created over the past years."
"I've been a devoted fan of KCRW my whole adult life," said Kline. "The privilege to chair the KCRW Foundation Board and to work with my talented fellow Board members, the terrific innovators on the KCRW team, and the great leadership of Santa Monica College, is a deep and humbling honor. KCRW and SMC – and the creativity and learning these great institutions inspire – are so vital to California's future."
Michael Fleming, Executive Director of the David Bohnett Foundation, has served as chairman of the KCRW Foundation's Board for eight years. "Michael Fleming is a true gem. Polished, brilliant, and able to make everyone around him look his or her best, Michael has been a tremendous partner," said Ferro. "He has built a powerful and engaged Board and guided our organization into a new professional realm. The Board has grown from 15 members to 27 who reflect the community we reach, and increased our contributed resources by more than 500 percent. Because of his leadership, KCRW can mark its first significant Capital Campaign as a success, raising more than goal. I'm so glad he will be on hand as we open our brand new, state-of-the-art broadcast studios later this year."
About KCRW's Capital Campaign
Thanks to the generosity of more than 5,800 individual donors and institutional supporters, KCRW marked the end of its largest-ever Capital Campaign by exceeding the $48 million goal and raising $50.4 million. The Campaign included a $28 million contribution from Santa Monica College (SMC), licensee of KCRW, with funding from Bond Measure AA, approved by Santa Monica and Malibu voters in 2008. Major private sector gifts received for the Capital Campaign included $5 million from the Annenberg Foundation and $1 million from both the David Bohnett Foundation and the Conrad N. Hilton Foundation.
Over the past 35 years, KCRW's staff has grown from five to 125 people working in five locations, including extremely cramped offices and studios in the Santa Monica College cafeteria basement. Through the success of the Capital Campaign, the station was able to purchase broadcast and digital equipment for the KCRW Media Center, and to acquire new stations in Santa Barbara (88.7 FM) and San Luis Obispo (101.3 FM). Donated support also includes more than $11 million to invest in new programming and technology to distribute KCRW's content throughout Los Angeles and around the world. The new KCRW Media Center is designed to preserve the station's collaborative culture, while creating community gathering spaces, integrating state-of-the-art production facilities, and allowing for future growth. Designed by Clive Wilkinson Architects, a global leader in workplace innovation, the new building will also meet LEED Silver Certification standards, maximizing energy and water efficiency, and indoor environmental quality.
With a history of bringing unique live experiences to Southern California and around the country, KCRW will, for the first time in its history, be able to host the community at its own 1,400-square-foot Annenberg Performance Studio. KCRW will also have the opportunity to program events for up to 1,500 people in the 18,000-square-foot courtyard and outdoor stage, and a shared 180-seat auditorium. KCRW now produces over 80 live events across southern and central California and has seen a doubling of audience reach with a strong broadcast, digital, and social media audience that numbers in the millions.
SMC's Center for Media and Design is located in the middle of Santa Monica's creative business district, two blocks from the Expo Line. The campus will include a newly remodeled 50,000-square-foot teaching facility, a new 30,000-square-foot addition with TV and production studios, a cafe, and a new 430-space parking garage. Construction is projected for completion by the end of 2017, with both the KCRW Media Center and SMC Center for Media and Design operating from the new buildings by late 2017.
About Matt Kline
Matt Kline is a partner in the law firm of O'Melveny & Myers LLP. His trial, arbitration, and appellate practice is global in scope – with a focus on intellectual property; contract disputes; international cases; and the water, entertainment, and private-equity industries. Kline attended law school at U.C. Berkeley, where he served as Editor-in-Chief of the California Law Review.
Outside the office, Kline regularly lectures at a variety of educational institutions, including Stanford University, where he co-teaches a Business of Water class. He is actively involved in public service, including as counsel on the National War Powers Commission and on the boards of KCRW, the Center for Early Education, and Cancer for College. Kline is Chairman of the Warren Christopher Scholarship program and was an original member of Contemporary Friends at the Los Angeles County Museum of Art.
About Lee Rierson
Lee Rierson owns and operates Canyon Media Advisory, providing strategic consulting and business development services for media companies and startups. Prior to Canyon Media Advisory, Rierson served as Chief Operating Officer for both FremantleMedia North America and Shine America, both multinational TV and digital production and distribution outfits. Rierson also is an attorney who has practiced in the labor, employment, and entertainment fields, and served for many years earlier in his career as a business affairs negotiator for the ABC Television Network. He is a graduate of UCLA and the UCLA School of Law, a member of Tech Coast Angels' Los Angeles chapter, and has served on the KCRW Foundation Board for five years, most recently as Secretary/Treasurer and chair of the Finance and Governance committees.
About Emily Gold Mears
Emily Gold Mears currently manages a variety of investments, as well as being committed to philanthropy. Gold Mears was born and raised in Los Angeles and received her B.A. at U.C. Berkeley. She practiced Real Estate Law for a number of years and continues to be active in community organizations. She is a Board member of the UCLA Longevity Center; serves on the Society of Fellows Advisory Committee for the Aspen Institute; is on the policy committee for the Every Child Foundation; is a founding member of the L.A. Women's Collective; is a member of the Otis College of Art and Design Board of Governors; and is a Board member, governance committee member, and chair of the Development Committee for KCRW.
About KCRW
KCRW creates and curates a unique mix of content centered around music discovery, NPR news, cultural exploration, and informed public affairs. KCRW is driven by the spirit of Los Angeles and delivers in innovative ways – on the radio, digitally, and in person – to diverse, curious communities around the corner and around the world. A community service of Santa Monica College, KCRW can be found on the air in Los Angeles, Santa Barbara, Ventura, Mojave, Palm Springs, and via KCRW-developed smartphone apps and online at KCRW.com. KCRW is ranked 27th in L.A. radio, up from 43rd in 2009. Since 2009, KCRW has seen a doubling of its audience.
Twitter | twitter.com/kcrw
Facebook | facebook.com/kcrwradio
Instagram | instagram.com/kcrw
Google+ | plus.google.com/+kcrw
Press Contacts:    Carolyn Campbell (KCRW): carolyn@campbellcomm.biz,
(o) 310.659.5427 (m) 310. 995.8721
 Julie Fei (Matt Kline): jfei@omm.com
(o) 213.430.7792, (m) 213. 440.7792
Photo Credit:   Photo by Andrew Zinn