Articles tagged with
pie contest
Mark your calendars bakers. KCRW's annual Good Food Pie Contest returns to The Fowler Museum at UCLA on October 4th, 2015.
Looking for a savory pie recipe? Look no further!
Many bakers have been clamoring for Nicole Rucker's winning recipe from this year's pie contest. Nicole took home not one, or two, but FOUR ribbons at the 4th Annual Good Food Pie Contest. It was her Pork and Peas Pie which landed her the ribbon for Best in Show.
So what is the key to Nicole's blue ribbon recipe? "My first secret is controlling the temperature all along the …
The 4th Annual Good Food Pie Contest was a whopping success. Over 200 pies were entered in 5 categories. Many of you baked pies. Many of your tasted pies. But here is a sneak peak of what it looked like behind the scenes where the judges deliberated over who made the best pies in each category.

Pie &raquo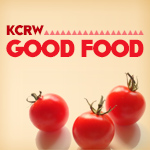 Our crew of fabulous judges is complete! Television personality Huell Howser has agreed to spearhead our judging, as has Top Chef Michael Voltaggio of Ink restaurant, Top Chef Ilan Hall of The Gorbals,  Top Chef Masters judge and LAist Food Editor Krista Simmons as well as Chef Kris Morningstar and Pastry Chef Josh Graves of Ray's at LACMA and the newly opened Coffee + …
This year our art-inspired pie category is based on Chris Burden's Metropolis II. Coincidentally, Jonathan Gold worked as Chris Burden's studio assistant in the late 1970′s and so we asked him for an insider's perspective on what a Metropolis II inspired pie might look like. Listen below for his answer…
We are thrilled to announce that renowned Pastry Chef Sherry Yard has joined our impressive panel of judges for the 4th Annual Good Food Pie Contest. Yard, who oversees all of the confections at Wolfgang Puck's restaurant empire, is widely considered an authority on all things sweet. We've also nabbed Michelin-decorated chef David LeFevre of MB Post, Pastry Chef and Veteran Pie Judge Shannon Swindle …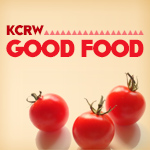 Here is a sneak peak at what you will find next Thursday evening at the KCRW + Huckleberry Thursday Night Dinner. Get your tickets now and support the 4th Annual Good Food Pie Contest. Buy your tickets here!
Spiced nuts 
Heirloom tomato crostatas with drake family farms goat cheese and arugula 
Free range fried chicken with sweet corn succotash
Old fashioned peach pie with sweet rose creamery vanilla …
Next Thursday, August 2nd we are partnering with Huckleberry in Santa Monica for a benefit dinner for the 4th Annual Good Food Pie Contest. You know all those tables, pie servers, forks and plates you see at the Pie Contest? Well we have to pay for those! And we need your help. So please come join Evan Kleiman and the Good Food team on …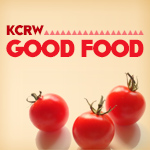 PIE-A-DAY #79
This recipe comes to us from Stark Bar, at LACMA. This specialty cocktail will be offered all day during the Third Annual Good Food Pie Contest for $10.

PIE COCKTAIL
2 oz Liquor43
1 oz fresh squeezed lime juice
3/4 oz heavy cream
*graham cracker rim