Uncategorized
This week market manager Laura Avery talks with farmer Andy Mariani of Andy's Orchard about why his fruits have such unique flavors. He says his growing region benefits from the Coastal Valleys' warm days and cold nights.
She also talks with Nicole Rucker, co-owner of Cofax, and former KCRW Pie Contest winner, who is shopping for July Flame peaches.
The average wait time at Franklin Barbecue is three hours, but the Good Food crew says it's worth the wait. In fact, the line is so long that a spawned its own lawn chair economy. But it still has to be the first stop!
If you're in Austin, come hang with us. Here's what we're up to.
Veracruz All Natural:
Dai Due:
If you like dates, you'll love this recipe for bahri date salad.
Daniel Genis spent 10 years in prison, and tells us about his experience cooking and eating behind bars. We also hear about the deluge of free food in Hollywood writers' rooms. Plus, we talk to LA's premier foragers about how they extract the flavors of California.
We talk about the bread that's helped launch the nationwide toast trend and how a newly lifted ban on some Mexican clams will change L.A. menus; plus, is fat our friend after all?
Every week on the Good Food Blog we celebrate Meatless Monday by sharing a vegetarian recipe from our archives.
Jacques Pepin is the author of Fast Food My Way, published by Houghton Mifflin. He first shared this recipe for Zucchini and Tomato Salad on October 2, 2004.
This Blueberry & Blackberry Pie comes from Lena Kwak, who created The French Laundry's gluten-free Cup4Cup flour.
Every week, Good Food's Music Supervisor Gary Mecija selects a song to cook by.
When farmers Robert and Pat Poole return to Southern California farmers markets each spring, pastry chefs and berry connoisseurs arrive at the market a little earlier than usual. The Poole's entire berry crop is designated for their table customers, meaning that the large produce companies who troll the market cannot pre-order flats for chefs. Unlike many other prized ingredients at the Santa Monica Market, …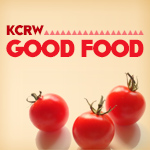 Today is Day 7 of our annual cookbook giveaway. Every weekday until Friday, December 21, we'll be giving away a cookbook at noon on the blog.
How does it work?
The first person to answer the day's trivia question wins the cookbook. Answer below in the comments section.
Later in the day we'll post a comment asking the winner to email us at goodfood@kcrw.org with his or …