Road Food
Las Vegas buffets, much like the city itself, are polarizing. You either love them. Or you hate them, but a new wave of buffets are sprouting up in Las Vegas, determined to overturn the stigma of soggy bacon and and rubbery pancakes
This week Jonathan Gold reviews Fishing with Dynamite, a shoebox sized seafood restaurant from Chef David LeFevre. He recommends the black duck and kiwi cup oysters, squash rolls, grilled octopus, sword squid and the pretzel and chocolate bread pudding for dessert.
Whenever I travel my holy grail is to have conversations with actual people of the area and check out a regular person's kitchen.  There is no better way to do this than to cadge an invitation to dine at someone's home.  But sometimes you are really "dining", not just eating.  The whole event can be over burdened with expectations and formality on the part …
First Baja stop?  Tijuana's sprawling Mercado Hidalgo to record the market report.
Second stop? Tacos Fitos for beef birria, baja-style, the local breakfast of champions.
Third Stop?  BCB or Baja Craft Beers.  Now that we had full bellies we were ready to start tasting beer.  Who cared that it was 10am?  For someone who never had a Mexican craft beer it was a mind-blowing experience.  But …
Nicole Mournian is a pie savant. She swept Good Food's 4th Annual Pie Contest last year winning four out of seven blue ribbons. She was inspired by her win to take her expertise on the road to the 2013 National Pie Contest in Orlando, Florida. She and two co-workers decided to make a documentary about their road trip through the American South to the National Pie Contest. Along the way they ate a lot of pie. This recipe was inspired by their visit to Pie Lab in Greensboro, Alabama.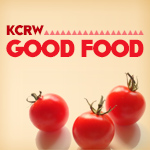 Last week I decided to drive 6 hours to Davis, CA to adopt a new puppy.  Of course any road trip involves careful planning around food.  Here's are some of my highlights from the drive up Highway 99.
Dewars in Bakersfield
My first stop was at Dewars, a candy shop in Bakersfield.  This was a Jonathan Gold recommendation – on an episode of Good Food, he …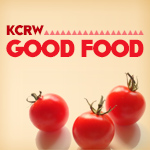 Growing up, conversation at my house was nearly always accompanied by the sound of nuts being cracked by hand or seed shells being broken against the teeth. I was to later learn that seeds and nuts destined to be eaten while conversing are called passatempi in Italian or ajeel in Farsi. Evenings were enlivened as everyone showed off their dexterity cracking the perfect whole …