Nut
Here's my Thanksgiving present to you, my favorite recipe for Pecan Pie. I always found traditional Pecan Pie way too sweet, so over the years I tinkered until I discovered that adding bittersweet chocolate, cocoa nibs and a special espresso extract brings the sweetness into balance. You get the same hit of gooey pecan goodness, but the espresso and chocolate deepen the flavor. Both cocoa …
Evan talks with Saveur editor James Oseland on this week's show about pie in American culture.
He shared the recipe for the Blue-Ribbon Pecan Pie that won first place at a pie contest on an Oklahoma ranch.
Today's pie comes to us from Mollie Katzen, author of the landmark Moosewood Cookbook and the new The Heart of the Plate: Vegetarian Recipes for a New Generation.
(No pie crust with lard in it here.)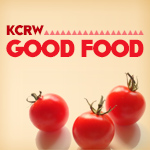 Coconut Cream Pie
Since I started this pie project the overwhelming number one request has been Coconut Cream Pie.  Which was fascinating to me because I don't think I'd ever eaten a whole piece of Coconut Cream Pie in my life.  But because of my fear of cornstarch I waited.  Waited until I could feel confident in creating a cream with good flavor and proper …
What did Wimpy say? "I'll pay you Tuesday for a hamburger today."?  Well Monday's pie became today's pie after a fire in the oven.  No payment though.
Apparently a disadvantage to the small interior box of the countertop oven is that one (uhhh, me) must remember to trim the flying edges of the parchment paper I tuck onto the crust to hold the beans for …