Markets
News, Food, Recipes and Happenings from the Santa Monica Farmers' Market.
Here's what's in season at your local southern California farmers' market.
Here's what's in season at your local Southern California farmers' market.
California is experiencing a drought emergency. Why is this happening, and how is it affecting farmers?
Tsukiji Market is located in the heart of Tokyo's business district. It's the largest wholesale fish and seafood market in the world. Trucks clog the city streets in the early morning hours, delivering fish and seafood from around the world. The action starts as early as 2am, but in the popular imagination a day at Tsukiji kicks off with the tuna auctions. Professsor Ted Bestor, author …
Harvard Professor Theodore Bestor talks about the "startlingly low" price of bluefin tuna at this year's Tsukiji Market.
Puntarelle – Chicory elevated
If you've ever spent time walking the markets of Rome chances are you've seen thin curled slices of a celadon to white hued vegetable piled high or floating in a bowl of water.  Hopefully you had a salad of the puntarelle, a labor-intensive gift of fresh crunch with a hint of bitterness, often napped with a powerful anchovy garlic dressing. It's …
What should you be shopping for at Southern California Farmers Markets? Every Friday we help you plan your weekend shopping trip.
A liquor store parking lot in South LA isn't a typical setting for a farmer's market in this city. But that's where a new Friday afternoon produce stand set up shop last week.
The mini-market, spearheaded by the nonprofit groups Community Coalition and Community Unlimited, will be open Fridays from 3 until 6 p.m. at Century Market, on the corner of Western Avenue and 39th Street.
It was created in response to the closure of a Ralphs grocery store at Martin Luther King Boulevard and Western Avenue a few weeks ago. For some in the surrounding King Estates neighborhood, that Ralphs was the only market in walking distance.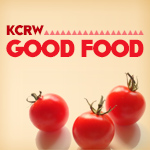 For about five years my pal Bill Esparza aka streetgourmetla has been asking me to hang around with him in Tijuana.  Perhaps it was the memories of debauched high school weekends down there that caused me to wait so long to say yes.  What a shame!  Joining me for TJ 101 were Chef Andre Guerrero of Oinkster and Massimiliano and Amy Scattergood, editor of …