Markets
What should you be shopping for at Southern California Farmers Markets? Every Friday we help you plan your weekend shopping trip.
A liquor store parking lot in South LA isn't a typical setting for a farmer's market in this city. But that's where a new Friday afternoon produce stand set up shop last week.
The mini-market, spearheaded by the nonprofit groups Community Coalition and Community Unlimited, will be open Fridays from 3 until 6 p.m. at Century Market, on the corner of Western Avenue and 39th Street.
It was created in response to the closure of a Ralphs grocery store at Martin Luther King Boulevard and Western Avenue a few weeks ago. For some in the surrounding King Estates neighborhood, that Ralphs was the only market in walking distance.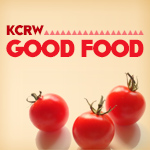 For about five years my pal Bill Esparza aka streetgourmetla has been asking me to hang around with him in Tijuana.  Perhaps it was the memories of debauched high school weekends down there that caused me to wait so long to say yes.  What a shame!  Joining me for TJ 101 were Chef Andre Guerrero of Oinkster and Massimiliano and Amy Scattergood, editor of …