Interviews
Randy Stromsoe is one of America's last remaining silversmiths. Now in his sixties, he says that his lifelong infatuation with this precious metal began at age 19.
This comforting one-pot meal comes to us by way of Brooklyn-based chef Pierre Thiam's latest homage to his native birthplace, Senegal: Modern Senegalese Recipes from the Source to the Bowl.
Chloe Chappe interviews Nicole Rucker of Gjelina about the food that inspired her baked goods.
Harvard Professor Theodore Bestor talks about the "startlingly low" price of bluefin tuna at this year's Tsukiji Market.
This past Sunday, the New York Times published an op-ed, "Bad Eating Habits Start in the Womb" that discussed research that suggests that a person's tastes are influenced as early as in the womb. Evan Kleiman discussed this with Julie Mennella in this interview in 2011.
I had the great fortune to interview Diana Nyad in 2008. She hadn't yet decided to embark on what was to be a harrowing road of training and finishing her recently completed swim from Cuba to Key West. In fact, in the conversation below you'll hear her say she can't think of what would get her to start swimming laps again. We talked about …
The first time I ate muesli I was in Denmark. It was made with an assortment of nuts and dried fruits and made (of course) with whole milk. The whole mass had been soaking overnight. Right before serving, fresh blueberries were mixed in. It didn't exactly look beautiful because of the pallid color of the raw oats, but those same pale oats were transformed …
Los Angeles' first ever Le Grand Fooding event takes place this weekend at MOCA. All of us here at Good Food are fans, so we asked Le Fooding's leading man, Alexandre Cammas, to tell us about his inspiration for Le Fooding and what he and his Parisian pals think of LA's dining scene.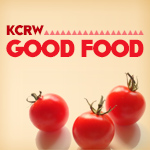 How do you choose from thousands of interviews?  That was the conundrum for putting together Saturday's show celebrating my 15th anniversary as the host of Good Food.  Well, it's hard.  However, technology fail helped in narrowing down the field since getting our old DAT tapes to play became an issue.  There are always the standouts, the interviews you know when you're in the midst …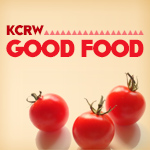 Eddie Lin is a regular contributor to Good Food and he's also the father of two young girls.  That means, that he is fully aware of the Spaghetti Taco craze, created by the hit Nickelodeon show iCarly (more about the craze in the NY Times).  Last week, Eddie went down to the set of the show and interviewed …