Giveaway
We asked 8 chefs participating in dineL.A. to weigh in on their predictions for 2015.
Plus, we are giving away four $50 gift certificates to Cafe Gratitude, Badmaash, Sugarfish and Blue Plate Taco. Leave us a comment with your food trend forecasts for the year ahead and Evan will select her four favorites on Monday at 3 o'clock.
Tomorrow night at 7pm, two pie queens will share their pie secrets in a class at The New School of Cooking in Culver City. We're giving away two tickets to the baker who needs the most help!
Tell us your pie disaster story in the comments below. Did you forget to add an ingredient? Did your oven catch on fire? (We hope not.) We're going to …
We have three pairs of tickets to giveaway for tomorrow's Tomatomania Five Chefs/Five Tomatoes dinner at Loteria Grill in Hollywood.
We want to hear from all of you tomato growers. What was your favorite variety that you planted this summer? And how do you utilize your summer bounty? Tell us about your tomato gardening and cooking stories. We'll select our three favorites who will each …
It's time for the 2013 LA Craft Beer Crawl in DTLA.  Last year's event sold out quickly so this year an extra day's been added so you can expand your consumpti..oops I mean knowledge of Craft Beers.  Share a story about learning that all beer isn't mass produced lager.  I'll pick my three favorite stories to each win a pair of tickets!  Good Luck! …
Jason Wise's SOMM takes audiences inside the Court of Master Sommeliers, the prestigious organization of the world's best wine experts. What does it take to pass the Master Sommelier Exam? A whole lot, you'll learn, at this advance screening and wine tasting at Montage Laguna Beach this Saturday, June 15, from 5:45 p.m. to 9 p.m.
That is, if you win our ticket giveaway. Snag a …
As promised, we have another pair of tickets to give away to see the new movie The Fruit Hunters.
The screening is tomorrow at 11 a.m. at Laemmle's Monica 4 theater on 2nd Street in Santa Monica.
To win, comment below with the most exotic fruit you've spotted in Los Angeles, and where you found it. 
You can watch the movie's trailer below.
The Fruit Hunters – Official …
We're giving away a pair of tickets to the premier of The Fruit Hunters followed by a Q&A with Bill Pullman. The screening is this Monday, May 13th at 7:30pm at Laemmle Monica 4-Plex.
For a chance to win the tickets, tell us about the most exotic fruit you have ever eaten. Was it on vacation? Was it foraged? We want to hear about …
Food Forward, the organization that collects excess fruits and vegetables around Southern California and donates them to the hungry, is having its third annual Spring Melt fundraiser on Saturday, April 27. Tickets are $95 each – or a pair of them are free, if you win this giveaway. Tell us your funniest fruit story!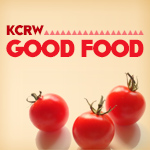 Smack dab between Martin Luther King Day and President's Day lies…National Pancake Day! You may not get the day off of work, but you can get a free stack of pancakes at your nearest IHOP. For the 8th year in a row, the 54-year old chain will offer free pancakes to all guests on February 5th. IHOP will simultaneously launch their yearly fundraising campaign …
Today is *the last day* of our annual cookbook giveaway. Every weekday since our post-Thanksgiving food coma, we'll be giving away a cookbook at noon on the blog.
How does it work?
The first person to answer the day's trivia question wins the cookbook. Answer below in the comments section.
Later in the day we'll post a comment asking the winner to email us at goodfood@kcrw.org with his or …