Books
Food critics are a notoriously picky bunch. Because once you've tried veal Parmesan dozens of times, it gets boring to write about again and again. You want to go deeper, dig harder, and find the types of food that most of us have never heard of, or never thought anyone actually eats.
That's what Dana Goodyear does in her new book about the foodies who …
Marcella Hazan died this past weekend.  She was a monumental, irresistible force, a cultural crusader of the best kind.  Opinionated, severe if provoked – the whistle she brandished in classes became legendary.  And yet, for a generation of home cooks she became the Italian aunt we wished we had.
You know how people talk about being hit by a lightening bolt of love at first …
If you love books and you love eating there's a lot to do on Sunday.
I'll be interviewing Anne Willan at the Culinary Pavilion of the Book Fair at 1pm then running to the Thai Fest 2013 to lead a discussion of Thai Cuisine in America  at 4:30pm with an exciting mix of chefs (Jet Tila, Curtis Stone, Sang Yoon, Andy Ricker, & Kris Yenbamroong).
The …
The Cassoulet Saved Our Marriage is a gorgeous collection of essays about that big picture theme that's behind every segment we air on Good Food – what we eat affects who we are. The book's contributors share raw but self-aware portraits of the insecurity, existential questions and pure joy that food can elicit.
One of those stories is about pie. Lisa McNamara's "Pie-Eyed" tells a tale of femininity and love, mediated in the oven.
Today on Good Food, Chef Amanda Cohen of Dirt Candy talks about the challenge of cooking vegetables versus meat. She explains that unlike meat, vegetables are mostly water and often uniform in structure. To achieve the same satisfaction we get from the Maillard reaction when cooking a steak, she suggests smoking your veggies.
What do you do when your floorboards start to sag from the weight of weighty tomes?  I"ll tell you what I do – I have a cookbook sale!  This time around there are quite a few goodies to pick through. Lots of big pretty beauties.  And for those of you rolling your eyes about driving down to OC, it's not that bad.  Combine book …
Now available at the KCRW store – autographed copies of Evan's book Angeli Caffe: Pizza Pasta Panini.
It's a collection of recipes from her 28 years of running Angeli, with lessons in baking focaccia, twirling pizza dough and cooking up all manner of Italian meals.
"Portland: The Mighty Gastropolis" is a journey through what author Karen Brooks calls "America's New Food Revolution." It's a revolution that is stained with pickle juice and greased with bone marrow. It's happening on board carts, inside butcher shops and across communal tables. "The Mighty Gastropolis," Brooks says, "is really a story about passion, obsession and perseverence."
Our Supervising Producer, Gillian, put together a beautiful holiday gift guide earlier this week; Evan also shared her favorite cookbooks of the year. But what if your giftee has all the fancy olive oil they need?
For those looking for a gastronomy-related gag gift, us Good Foodies have found not one but THREE food-themed parodies of the ubiquitous S&M trilogy Fifty Shades of Grey.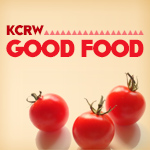 With KCRW's Amazon affiliate program you can support KCRW when you shop for your loved ones this holiday season. These 10 books are my picks for the best cookbooks of the year. Click away to shop for your holiday gifts while giving to the programing that you love.
Jerusalem: A Cookbook
by Yotam Ottolenghi
$19.85
Burma: Rivers of Flavor
by Naomi Duguid
$20.98
The Mile End Cookbook: Redefining Jewish Co…
by Noah Bernamoff
$16.76
Afield: …