Last night's screening was just really our of this world.
It's nice to see we can welcome some undocumented aliens warmly!
Listen to a great interview and performance on KCRW's Press Play HERE.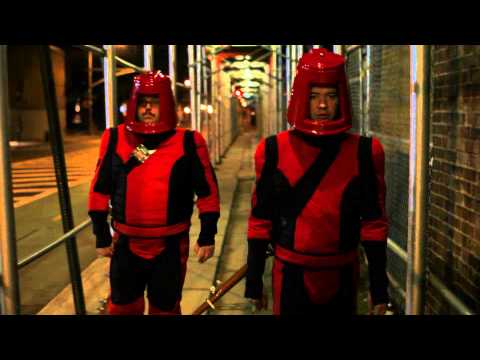 "The History of Future Folk," is a movie about aliens who come to destroy the earth, but decide to play bluegrass instead. It's one of my absolutely favorite films of the last few years; it'll make you laugh, it'll make you cry, it'll make you believe mild-mannered banjo-playing extraterrestrials can save our planet.
First Take will screen this amazing movie for KCRW members at the Writer's Guild Theater this Tuesday, July 1st. But it gets even better! We're honored to be the first stop of the "Future Folk (Part of) Earth Tour." That's right – the guys from the planet Hondo will be there for an out of this world performance after the movie.
Doors open for fabulous complimentary Lola Kay wine, Goose Island craft beer and no-host food trucks and music at 6:00, the film starts at 7:30 followed by the performance and Q&A. So get there early and tell the sitter you'll be late!
 Thank you to DoLA and the DoStuff Media Network
for putting together the "(Part of) Earth Tour" and making this very special evening possible!
Check them out for more awesome stuff to do in LA and around the country.
Please note - First Take is first-come, first-served and this should be a very popular event.