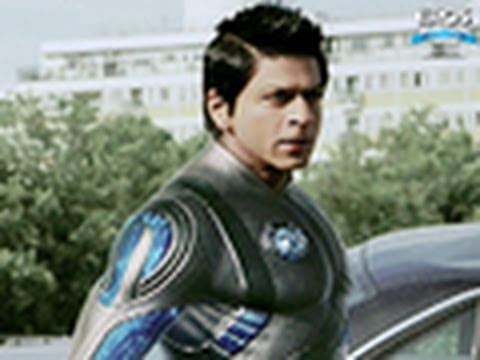 Bollywood knows how to do it big – and "Ra.One" is India's biggest movie to date.  I was lucky enough to attend a screening at the Academy's palatial theater in Beverly Hills last night, and I found the whole evening to be really…something.
Let's just start with the introductions.  After a welcome from IFFLA (The Indian Film Festival of LA), there was a long presentation from Resul Pookutty, the movie's sound editor.  Sure, Pookutty won an Oscar for "Slumdog Millionaire" – but he's a sound editor.  And while he spoke, the director of the film, the head of the studio and the biggest star in India waited backstage for their turn.  Would this happen in Hollywood?  No way, Jose'.
The Academy's red velvet, 1,000-theater seat was largely filled with an elegant crowd of LA's Indian diaspora.  But when gigantic (pony-tailed!) Bollywood star Shah Rukh Khan finally appeared on stage, the place turned into a Justin Bieber concert, with high-pitched squeals emanating from every corner.  The glowing screens of fans filming with their iPhones dotted the audience like lighters at a '70′s concert.  Folks rushed the stage with their cameras.  "I love you!" a number of women yelled, and Khan replied with the de rigueur "I love you, too.  "I love to watch you!" was an unintentionally creepy comment shouted by someone sitting in front of me.  Another lady jumped up and insisted that he sing happy birthday to her, and he obliged with a few bars before leaving the stage.  I don't know Shah Rukh Khan from Madeline Kahn, but I could tell this guy was a star.
But more interesting were the executive's comments. "India produces 900 films a year," he explained, and there's no reason they shouldn't reach a wider audience.  "Ra.One" – an effects-heavy mix of Bollywood camp and American super hero good vs. evil  - is an attempt to move in that direction.
Of course, they have a long way to go.  They're just getting heavily into the effects game (I was impressed to learn that 70% of the film's effects were made at home in India) and Americans are just never going to see subtitled movies en masse.  And I don't see Joe Sixpack ever taking to the over-the-top acting and garish dance numbers of Bollywood films – though frankly I think they're a fun break from watching stuff explode.
My friend Howard pointed out that Americans also expect the "inciting moment" of a film to happen in the first 15 minutes; in "Ra.One" – like most Bollywood films I imagine - it doesn't come until something like an hour in.  In fact, someone on stage during the introductions acknowledged that if Indian films are going to make a dent in the American market, they're going to have to get shorter. "Ra.One" – at 2:30ish – is actually fairly short by Bollywood standards, where the average length of a film is upwards of three hours.  Which is funny when you think about it – considering the ever-increasing cost of going to the movies, you'd think we'd want more for our money.  But I suppose with our hectic life-styles and short attention spans, less is more, at least when it comes to movies.
But it does beg the question – can you make movies that will work in the east and the west?  Or are we going to the theater for essentially different things?
I think not.  Whatever the differences are, I wouldn't put it past India to figure them out and beat us at our own game.  I hope you like curry, Hollywood.
"Ra.One" is playing at a theater near you.