We were delighted to kick off KCRW's new and improved screening series
with a film that epitomizes the kind of daring work we champion.
Our next screening is 11/25…stay tuned for details!
(NOTE! Due to flu beyond my control, we're shooting for 12/9).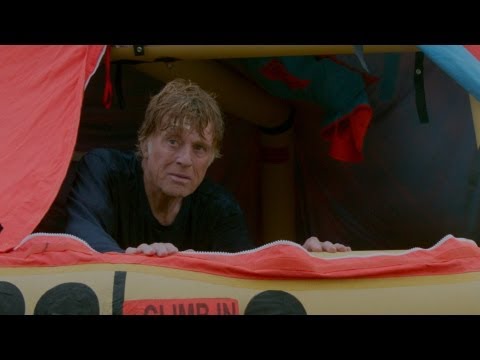 There's no one to talk to but god and yourself when you're alone and lost at sea, but Robert Redford's character doesn't even do that in the remarkable new film "All is Lost." And yet somehow we get intimately familiar with this man, proving that great acting and great filmmaking can speak louder than words. 
Director J.C. Chandor ("Margin Call") started this project with a 32-page treatment, and Redford and many of the financiers came on board based on the strength of his writing. They were all making a risky bet – a movie, with a single character, an aging star, no dialogue and an ambiguous ending is not actually fodder for boffo box office. Add water – and the extreme hardships of filming thereupon (see photo), and you have a potential disaster.
Instead, the result is a riveting cinematic adventure…and a movie that's worth seeing many times over – if you can handle the tension. I hope you'll put on your rain slickers and see it soon!
Get tickets for "All is Lost" HERE!